Microsoft Azure Sphere - Go for Maximum IoT Security
Make the connected world a safer place with Azure Sphere
Securely connecting an IoT MCU design to the Cloud?

Azure Sphere enables just that! Azure Sphere isn't just a simple microcontroller. It's a solution for building highly secure devices composed of three components: a unique microcontroller built by one of Microsoft's silicon partners, a lightweight OS with defense-in-depth capabilities, and a cloud security service. This three-part solution is defining a new standard for industrial IoT device security.

Get your exclusive information package!

REGISTER NOW FOR FREE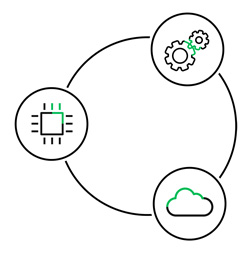 Technology & Solution Overview
Secured MCUs
A new class of crossover Azure Sphere MCUs, from our silicon partners, with built-in Microsoft security technology provide connectivity, high performance, and a secured hardware root of trust.


Secured Operating System
The highly-secured Azure Sphere IoT OS combines the best of Microsoft and OSS technologies to create a trustworthy platform for new IoT experiences.


Secured by our Cloud Service
The Azure Sphere Security Service guards every Azure Sphere device; it protects your devices and customers, detectsemerging threats, and proactively responds.
Highly-secured connected devices require 7 properties

Renewable Security
Does your device's software update automatically?
Video: Azure Sphere for secure e-charging
Video: Azure Sphere with Cloud Solutions