Windows 10 IoT Enterprise
Windows 10 October 2018 Update has been released to public which is the 6th major update released for Windows 10 operating system. It is also referred as RedStone 5. The embedded version is called Windows 10 IoT Enterprise 2019.

Windows 10 IoT Enterprise is a full version of Windows 10 that delivers enterprise manageability and security to IoT solutions. It is a binary equivalent to Windows 10 Enterprise, so you can use the same familiar development and management tools as client PCs and laptops. However, when it comes to licensing and distribution, the desktop version and IoT versions differ.
Note that Windows 10 IoT Enterprise offers both Long-term Servicing Channel (LTSC) and Semi-Annual Channel (SAC) options. OEMs can choose the version they require for their devices. More information can be found at https://docs.microsoft.com/en-us/windows-hardware/manufacture/desktop/iot-ent-overview

Changes in the pricing model
Up until now, pricing has been based vertically. Now it is based on the type/performance of processors.




Subject to change – please contact microsoft@avnet.eu for the actual CPU to license matching
The license prices vary depending on the type of processor you are using.

We are happy to send you an offer, based on your specific need and/or Tier level.

From the technical standpoint, there is no difference in between the 3 license options. It´s the same installation media without any feature restriction.

Attention: The processor based licensing model replaced the vertical license model from Windows 10 LTSB 2015.


There are two update models available, covered under the following licensing options:
CBB version renamed to SAC
CBB stands for Custom Branch for Business. Microsoft replaced the CBB with the SAC - Semi Annual Channel - update model.
Twice a year the OS will receive feature updates and regularly security and other updates. The feature updates in March and September (1803 and 1809 indicate the versioning) can change the OS up to a complete new OS version.
Windows 10 IoT Enterprise SAC is a complete Windows 10 Enterprise version.
LTSB renamed to LTSC
As an alternative to the Semi Annual Channel (SAC) version, Microsoft offers a LTSC (Long Term Servicing Channel, formerly LTSB - Long Term Servicing Branch) version.
There is no Microsoft Store, Cortana and Edge browser in this version. So the updates can be controlled and there is no must to install them.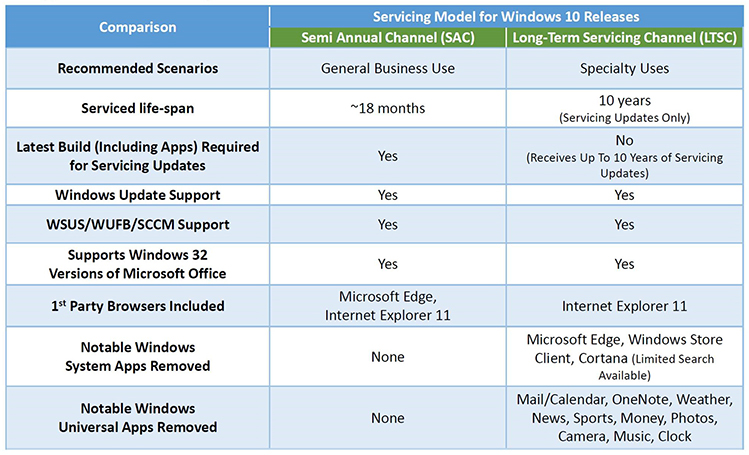 Availability and end of service dates
Windows 10 version history
Date of availability
Mainstream support end date
Extended support end date
Windows 10 Enterprise LTSC 2019
Windows 10 IoT Enterprise LTSC 2019
November 13, 2018
January 9, 2024
January 9, 2029
Windows 10 Enterprise 2016 LTSB
Windows 10 IoT Enterprise 2016 LTSB
August 2, 2016
October 12, 2021
October 13, 2026
Windows 10 Enterprise 2015 LTSB
Windows 10 IoT Enterprise 2015 LTSB
July 29, 2015|
October 13, 2020
October 14, 2025