Windows 10 IoT Enterprise 2021
Windows 10 IoT Enterprise 2021 is a new operating system offering for embedded and IoT devices. Microsoft delivers enterprise-class power, security, and manageability to the Internet of Things in addition to new features and capabilities. Premium features such as advanced protection against modern security threats and comprehensive device management, app management, and control capabilities are added. Windows 10 Enterprise LTSC 2021 includes the cumulative enhancements provided in Windows 10 versions 1903, 1909, 2004, 21H1, and 21H2.
Windows 10 Enterprise LTSC 2021 has a 5 year lifecycle, but Windows 10 IoT Enterprise continues to have a 10 year lifecycle.
Microsoft Edge Browser support is now included in-box and Microsoft Edge kiosk mode is available for LTSC releases starting in Windows 10 IoT Enterprise 2021 LTSC. Microsoft Edge kiosk mode offers two lockdown experiences of the browser so organizations can create, manage, and provide the best experience for their customers.
WPA3 H2E standards are supported for enhanced Wi-Fi security.

There are no changes in the pricing model
It is based on the type/performance of processors used in your hardware.

Subject to change – please contact microsoft@remove-this.avnet.eu for the actual CPU to license matching
The license prices vary depending on the type of processor you are using.
We are happy to send you an offer, based on your specific need and/or Tier level.
From the technical standpoint, there is no difference in between the 3 license options. It´s the same installation media without any feature restriction.
There are two update models available, covered under the following licensing options:

SAC
The SAC - Semi Annual Channel. Twice a year the OS will receive feature updates and regularly security and other updates. The feature updates in H1 and H2, which means the first and the second half of a calendar year can change the OS up to a complete new OS version. In the past these updates took place in March and September (1803 and 1809 indicate the versioning).
Windows 10 IoT Enterprise SAC is a complete Windows 10 Enterprise version.
LTSC
As an alternative to the Semi Annual Channel (SAC) version, Microsoft offers a LTSC (Long Term Servicing Channel, formerly LTSB - Long Term Servicing Branch) version.
For example, there is no Microsoft Store and Cortana in this version. So the updates can be controlled and there is no must to install them.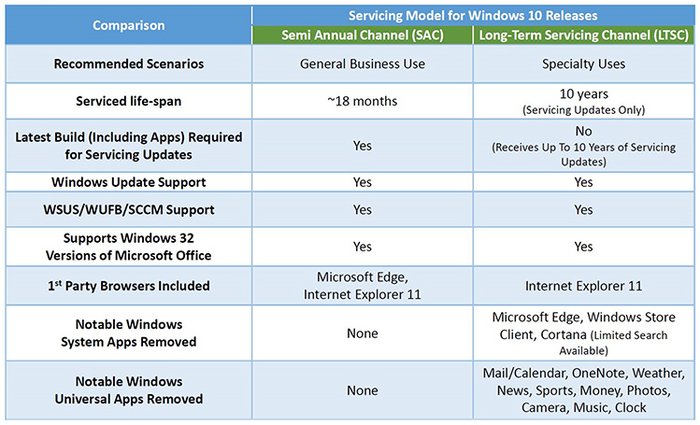 Enterprise and IoT LTSB/LTSC editions
| Version | Servicing Option | Date of availability | Mainstream support end date | Extended support end date |
| --- | --- | --- | --- | --- |
| 21H2 | Long-Term Servicing Channel (LTSC) | 2021-11-16 | 2027-01-12 | 2032-01-13 (IoT Enterprise only) |
| 1809 | Long-Term Servicing Channel (LTSC) | 2018-11-13 | 2024-01-09 | 2029-01-09 (IoT Enterprise only) |
| 1607 | Long-Term Servicing Branch (LTSB) | 2016-08-02 | End of servicing | 2026-10-13 (IoT Enterprise only) |
| 1507 (RTM) | Long-Term Servicing Branch (LTSB) | 2015-07-29 | End of servicing | 2025-10-14 |
https://docs.microsoft.com/en-us/windows/release-health/release-information
Windows 10 Enterprise LTSC 2021 builds on Windows 10 version 21H2 adding premium features designed to address the needs of large and mid-size organizations), such as:
Advanced protection against modern security threats with System Guard, Attack surface area reduction and Windows Security App
Full flexibility of OS deployment with SetupDiag and the latest ADK/MDT
Updating and support options
Comprehensive device and app management and control capabilities through Windows Sandbox and Microsoft Defender Application Guard
For more details please have a look at https://docs.microsoft.com/en-us/windows/whats-new/ltsc/whats-new-windows-10-2021

Note: Not all features in an update will work on all devices. A device may not be able to receive updates if the device hardware is incompatible, lacks current drivers, or is otherwise outside the original equipment manufacturer's (OEM) support period.
Source: https://support.microsoft.com/en-us/help/13853/windows-lifecycle-fact-sheet