Windows® 10 IoT Enterprise
Windows 10 IoT Enterprise is a full version of Windows 10 that delivers enterprise manageability and security to IoT solutions.
Because it's a binary equivalent to Windows 10 Enterprise, Windows 10 IoT Enterprise shares all the benefits of the worldwide Windows ecosystem, including the same familiar development and management tools as client PCs and laptops. However, when it comes to licensing and distribution, the desktop version and IoT versions differ.
Windows 10 IoT Enterprise offers both LTSC and SAC options.

IoT Enterprise provides advanced device lockdown capabilities to enable industry-specific device scenarios including:
Medical Devices
Retail POS
Digital Signage/Kiosk
ATM
Manufacturing
Thin Clients
Industry Tablets

One Windows Platform
Shorten time to market and reduce development & support costs by investing in one Windows platform that scales across devices:
One common toolset, one common app platform, and one common deployment, management, and servicing system allows your customers to easily integrate Windows® 10 IoT into their existing environment.
Natural and personal user experience simplifies device operation and reduces your customer's learning curve.

Secure
Meet your customer's needs for a more secured industry device with Windows' Enterprise-grade security capabilities and advanced lockdown:
Enterprise-grade security ensures the device and the data that the device collects and manages are protected from the next generation of threats, ensures secure connection to the network and thwarts unauthorized access, and provides advanced malware threat resistance by ensuring that only certified apps run on the device.
Windows® 10 allows OEMs to lock devices down with business-specific applications and ensures that the device functions and is used as intended.

Connected
Exceed your customer expectation with an industry device that uses industry standards to connect with other devices as well as industry-specific peripherals and low-level hardware:
Access barcode scanners, magnetic stripe readers, receipt printers, and cash drawers from Universal Windows apps.
APIs allow easy access and integration of sensors and devices over a variety of busses: GPIO, I2C, SPI and easy access to custom hardware.
New in Windows® 10 IoT Enterprise
What's New in Windows® 10 IoT Enterprise
Full version of Windows® 10 Enterprise with advanced lockdown capabilities powering a range of industry devices across industrial automation, retail, manufacturing, health, government or any other industries.

Versions in release: Windows® 10 IoT Enterprise
Activation: Online deferred = Activation is present but optional
Embedded Enabling Features: Unified Write Filter, Embedded Boot Experience and Log-on, Shell Launcher
Tools: Converged tools: ADK (Windows Assessment and Deployment Kit) + ICD (Windows Image Configuration Designer)
Management & Servicing: MDM System Center
Security: Device Guard, Windows® Hello and Passport
App Platform: UWP, Classic Windows Applications
Industry Peripheral Support: Additional Peripheral Support from UWP apps POS for.NET, Direct access to hardware busses from UWP
Lifecycle: 5 year mainstream support + 5 year extended support = 10 years

More details can be foud at Microsoft TechNet
In fact, it's the standard Windows® 10 IoT Enterprise installation DVD and you can install after the installation the embedded features over "add Windows features" the control panel.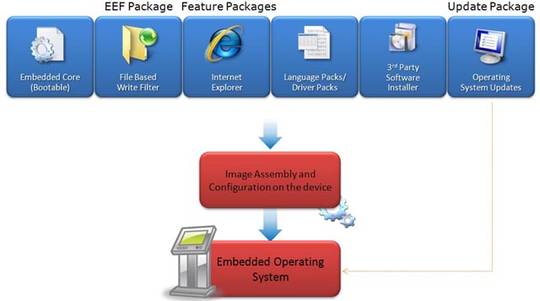 Windows® 10 IoT Enterprise Licensing
Microsoft changed the licensing of Windows® 10 IoT Enterprise to a processor based licensing model. Based on the used processor model (processing power) the license needs to be chosen.
The operating system itself is technically the same. Only the license sticker and pricing differs. Windows® 10 IoT Enterprise is available as SAC (Semi Annual Channel) or LTSB/LTSC (Long Term Servicing Branch/Long Term Servicing Channel) Version.
For more information, please kindly contact us.