Microsoft Windows® Server IoT products are fully functional versions of Microsoft's server operating system with built-in security, reliability, and availability features intended for use in an embedded solution consisting of purpose-built hardware and application software. Windows IoT Server is the choice of OEMs looking for long term product availability to more easily design, build and deploy dedicated embedded server appliances.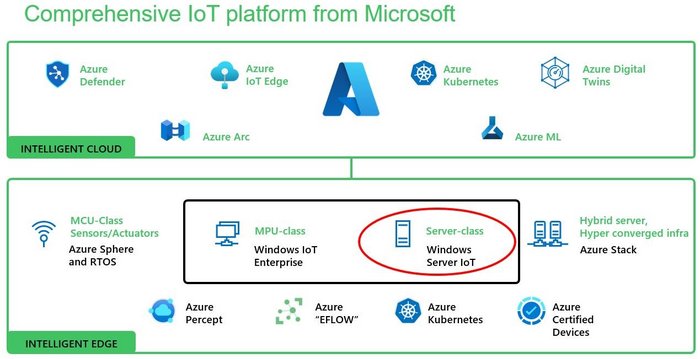 Windows Server Std/DC 2012 R2
Windows Storage Server 2012 R2 for Embedded Sytems
Windows Storage Server 2016 for Embedded Systems
Windows Server IoT 2019 Storage
Windows SQL Server 2005 for Embedded Systems
Windows SQL Server 2008 for Embedded Systems
SQL Server 2014 for Embedded Systems
SQL Server 2016 for Embedded Systems
SQL Server IoT 2017
Interested in a trial download? Find the main server trials here.
Windows Server Embedded Key Features
The same full Server Operating System as "normal" versions
Language Independent Licensing – Multi User Interface (MUI) Language OPK
Online Activation Disabled – for customers with more than 100 pcs per year and above, activation can be disabled via an application to Microsoft
Long Lifetime – for at least 10-15 years.
| Product Family Name | EOL - End of License |
| --- | --- |
| Windows Server 2008 R2 and CALs for Embedded Sytems | 06.02.23 |
| Windows Server 2012 for Embedded Sytems | 30.06.27 |
| Windows Server 2012 R2 for Embedded Sytems | 30.06.27 |
| Windows Server 2016 for Embedded Sytems | 31.12.31 |
| Windows Server 2016 CAL for Embedded Sytems | 31.12.21 |
| Windows Server 2016 RDS CAL for Embedded Sytems | 31.12.21 |
| Windows Server IoT 2019 and CALs | 31.12.29 |
| Windows Server IoT 2022 and CALs | 31.08.31 |
| Windows Storage Server 2008 R2 for Embedded Systems | 06.02.23 |
| Windows Storage Server 2012 R2 for Embedded Systems | 31.12.20 |
| Windows Storage Server 2016 for Embedded Systems | 31.12.23 |
| Windows Storage Server IoT 2019 | 31.12.29 |
| Windows Storage Server IoT 2022 | 31.08.31 |
| SQL Server 2008 R2 for Embedded Systems | 31.07.23 |
| SQL Server 2012 for Embedded Systems | 31.03.27 |
| SQL Server 2014 for Embedded Systems | 31.12.28 |
| SQL Server 2016 for Embedded Systems | 31.07.31 |
| SQL Server IoT 2017 | 30.11.32 |
| SQL Server IoT 2019 | 31.01.30 |