The Microsoft Certificate of Authenticity ("COA") is the primary anti-piracy device, OEM product-tracking device and proof of license for Microsoft OEM products.
OEM Customer receives COAs from Avnet Silica after purchasing Runtime Licenses.
The COA is a non-removable, sequentially numbered sticker with anti-piracy features designated by MS. It is permanently affixed to an accessible location on or within each Embedded System.
COAs are designed to provide a more secure document and allow improved authentication of genuine product.
Each COA identifies the Licensed Product installed on an Embedded System.
Embedded Systems distributed with Microsoft Embedded Licensed Products must have a COA.
It is the OEM customer's responsibility to accurately reconcile total number of COAs received with the number of systems shipped with MS software. OEM customers and MS Distributors should maintain appropriate records regarding the disposition of all COA labels, including serial number tracking of any COAs damaged as part of the manufacturing process.
There are three types of COAs used in the Embedded Channel. All three COA types are produced by De La Rue, a secure print vendor company that specializes in COA production.
1. The Embedded Thumbnail COA (Image not actual size)
Note that the OEM doesn't need to stick the small 2D Barcode sticker on the device. Only the yellow COA Sticker needs to be affixed to the device. The small 2D barcode is only an incremental number from the manufacturing lot.
To improve manufacturing quality processes and reel integrity, Microsoft has developed a new roll of Embedded Thumbnail Certificates of Authenticity (COAs). Changes include adding a serialized 2D barcode next to the thumbnail portion.

Important: the COA doesn't show a specific product name, it shows a product group! For example: X20-88075 for the product group Windows Embedded Standard covers Windows Embedded Standard 2009, Windows Embedded Standard 7E, Windows Embedded Standard 7P and Windows Embedded 8 Standard.
Starting from May 2021 the new Gemstone Jade COAs are available. Since these COAs need a special handling, please watch the video for the application handling.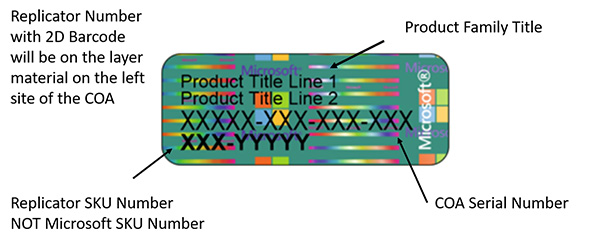 2. The Embedded Personal Computer (PC) COA (Image is not actual size)

All COA concealment labels will contain a variable 7 character code made up of alphanumeric characters and symbols, as per the below image. The code is intended for tracking purposes and does not impact concealment label functionality.

Microsoft changed the COA for Windows 7 Pro/Ultimate for Embedded System, Windows Vista for Embedded Systems, Windows 10 IoT Enterprise PKEA and Windows IoT Server /Server for Embedded Systems. The new COA will be the first using a polymer substrate.


Now available: COAs with concealment (scratch-off panel). It needs to be rubbed off VERY CAREFULLY.

Starting in February 2021, Microsoft will introduce the new Gemstone PC COA (Ruby).

Starting in May 2022, Microsoft will introduce the new J Series PC COA (J-PCCoA)
| Product | COA Type |
| --- | --- |
| Windows Embedded CE/Compact | Thumbnail COA |
| WePOS | Thumbnail COA |
| Windows 7 Professionaö/Ultimate | PC COA |
| Windows 10 IoT Enterprise PKEA | PC COA |
| Windows 11 IoT Enterprise PKEA | PC COA |
| Windows IoT Server / Embedded Server | PC COA |
| Windows Server Embedded | PC COA |
| SQL Server & CALs | COA Card |
| Windows Embedded Standard | Thumbnail COA |
| Windows Embedded POSReady | Thumbnail COA |
| Windows 10 IoT Enterprise ePKEA | Thumbnail COA |
| Windows 11 IoT Enterprise ePKEA | Thumbnail COA |
Visit the product section of each Microsoft Embedded product to find the specific License Terms.